Home
WELCOME to KEX.net - the Technology Platform

Tailor-Made Additive Manufacturing Knowledge
The Knowledge Area »Additive Manufacturing« provides comprehensive technical and technological knowledge, based on interaction with renowned research entities and global industrial players. For the Knowledge Area database, our technology experts frequently scout the latest applications, materials, production technologies, rating them according to economic and technological aspects.
The platform is maintained and operated through a strong and close cooperation with the ACAM Aachen Center for Additive Manufacturing and the Chair for Digital Additive Production (DAP) at the RWTH Aachen University.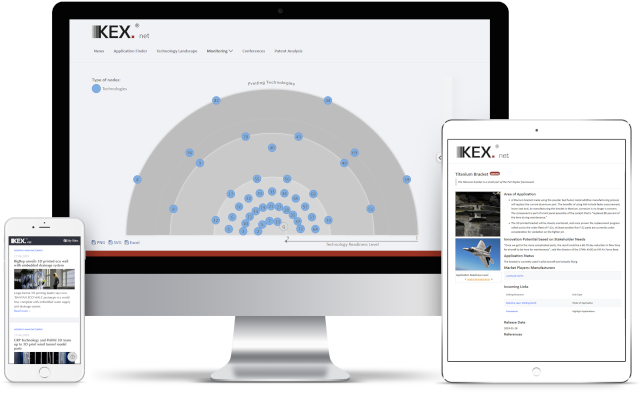 Features
Curated News
Weekly Updated Dashboard
Bi-weekly AM Webinars
Near-Time Application Monitoring
Exclusive Technology Landscape
More than 2,500 Machine & Material Profiles
Conference and Trade Show Calender
---
Benefits
Efficiently integrate the latest technology related know-how in your corporate processes.
Get access to exclusive technology based information, derived from global research and industrial networks.
Rely on our services to save your time and budget searching, refining and evaluating crucial technology information.
Become a member today
KEX.knowledge
Freemium

---
Dashboard
Report Corner
Webinars
Free
KEX.knowledge
Member


---
Industry & Techology News
Technology Landscape
Application Landscape
Full Database Search
Event Calender
From € 300,-
per month
*7-Day Free Trial
KEX.knowledge
Enterprise

---
Corporate Information Sharing
Export Functionality
Alerting Service
On Request
KEX.knowledge
Education & Associations


---
Distributor Access
Customizable Functionalities
Customizable Contents
On Request
Our Additive Manufacturing Experts